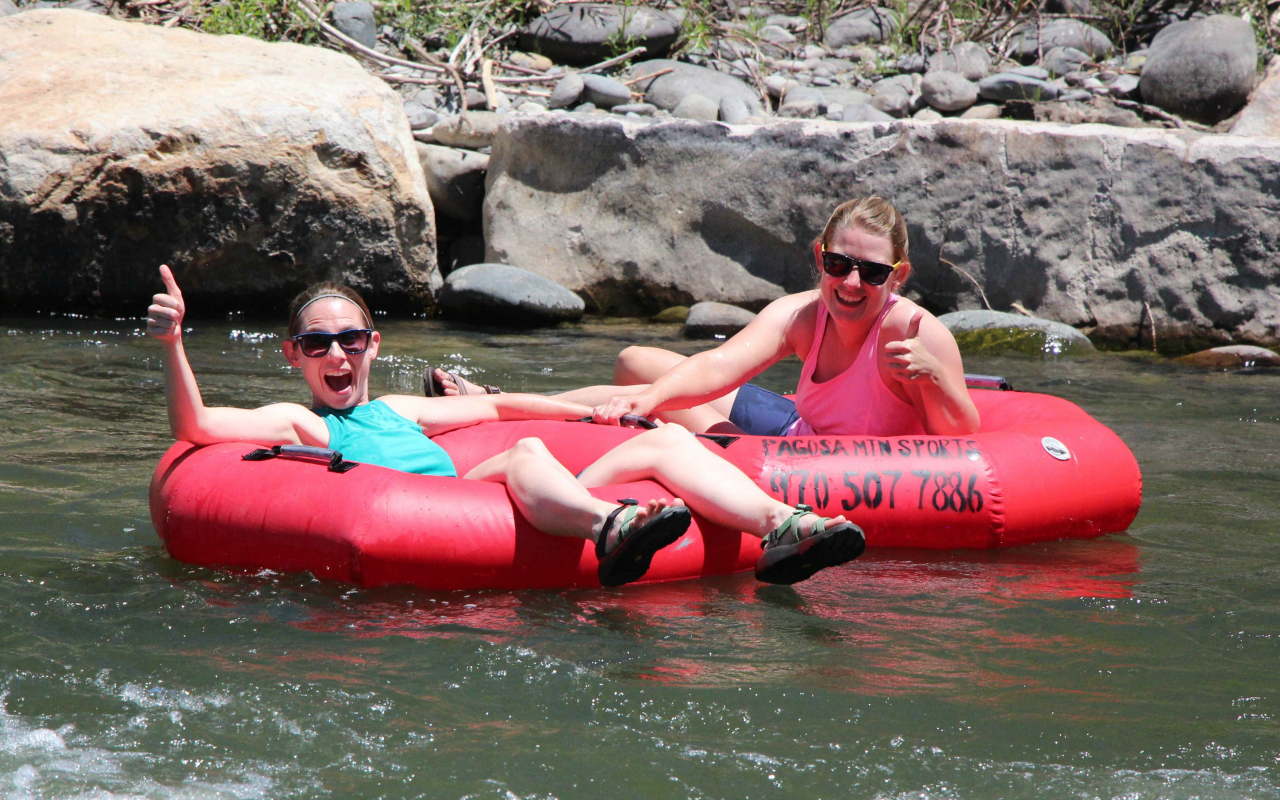 PMS is Not Currently Renting River Tubes
With the snow melt we have been experiencing, the San Juan River is much too high for tubing.  Pagosa Mountain Sports checks the river levels daily.  For safety, river tube rentals will not be allowed until the river level drops to 400 CFS or below.
At 250-400 CFS, the river is considered Strenuous.
PFDs (life jackets) are highly recommended and at this river level, they are included in the rental.
To check the river level yourself, go to the USGS site for the San Juan River.  Scroll down and look for "Most Recent Instantaneous Value" which is highlighted in light gray.
The San Juan River flows right through the heart of downtown Pagosa Springs.  What better way to enjoy it on a hot summer day than some slow moving tubing?
Pick up a rental tube at Pagosa Mountain Sports, make the short walk to the put-in by Riff Raff on the Rio and enjoy a leisurely three quarter mile long float down the San Juan to the take-out by the Visitor's Center.  (The float takes approximately one hour and the walk from the Visitor's Center to the Rio takes around ten minutes.)
Every rental includes:
Tube
PFD/Life jacket

Free and required by law for children under 13
When river is running above 200 CFS (Cubic Feet per Second), PFDs are free and highly recommend for adults
Recommended:
Closed-toed water shoes
Reusable water bottle
Sun screen
Water tight bag for keys, phone, wallet, etc.
Floating sunglasses retainers
Our staff will happily point out the typical float route and river features!
Pagosa Mountain Sports River Tube Rental Prices
$12    3 Hours
$15    Same Day - Maximum rental time is shop open until shop close
.  Joining a Pagosa Mountain Sports event or have a large group?  Call (970-507-7886) or email (info@pagosamountainsports) us to inquire about availability and special pricing!
A valid driver's license and credit card are required to rent.
To expedite the rental checkout process, print and sign the Pagosa Mountain Sports Waiver.
Online bookings must be made 9 or more hours in advance.
Please call Pagosa Mountain Sports (970-507-7886) if you would like to reserve a rental less than 9 hours in advance of your arrival at the shop.
Tubing on the San Juan River
Pagosa Mountain Sports encourages you to be safe while on the river.
It is important everyone in your group understands and practices river safety!
San Juan River - Water Level Safety:
.  Typically drops to a safe level for tubing around early July - sometimes earlier, sometimes later
.  Link to Current San Juan River Level
.  Look for the 'Most Recent Instantaneous Value'.  Measurement in CFS (Cubic Feet per Second)
.  Recreational
.  50-90 CFS - Still Floatable
.  90-150 CFS - Good for most
.  Ideal
.  150-250 CFS
.  Might flip
.  Rowdy for children
.  Strenuous
.  250-400 CFS
.  Flip likely
.  Not for < 50 lbs
.  Dangerous
.  400+ CFS
.  Too high for tubing
Tubing Safety Tips:
.  PFD/Lifejacket
.  Children and inexperienced swimmers should always wear a PFD
.  PFDs are required by law for children under 13 and are always free with a tube rental
.  When the river is running above 250 CFS, they are free with a tube rental and highly recommend for adults
.  Non-swimmers and Children
.  Very young children should not participate
.  During high water levels, adults and children who cannot get to shore unassisted should not participate
.  Stay Hydrated
.  1 Liter of water per hour is recommended.  Avoid excessive alcohol as it can lead to dehydration
.  Use Sunblock
.  Apply before and during float
.  Protect Your Feet
.  Close-toed shoes are highly recommended to prevent cuts and bruises from the rocky river bottom and for walking to and from the river
.  Keep Tubes Untied
.  Tied tubes can easily flip in rapids
.  Hazard for others enjoying the river
.  Standing in the River
.  Do not stand up in the river unless it is less than calf high
.  Rocks can shift and feet become trapped