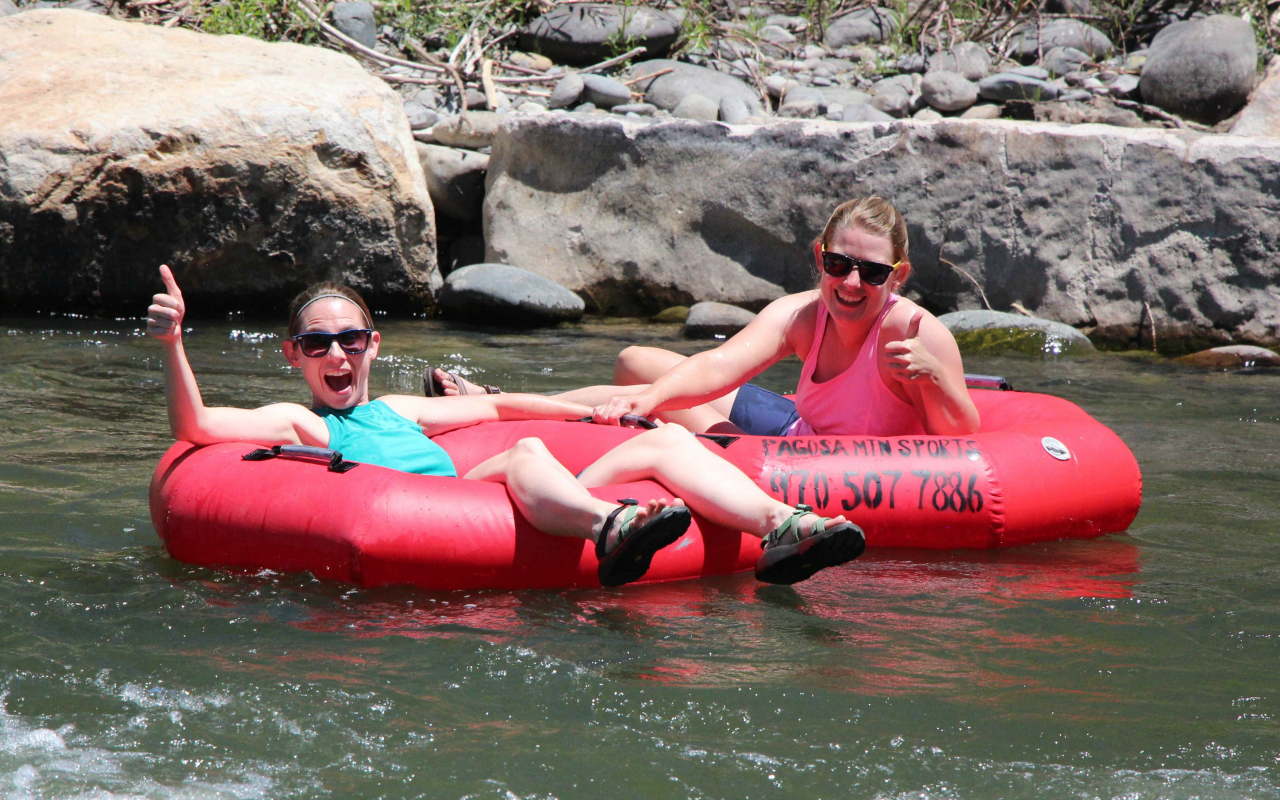 Pagosa Mountain Sports is renting tubes!
Looking for a fun way to relax and cool off?  Rent a tube from Pagosa Mountain Sports and head over to the San Juan River!
The San Juan's current water level is perfect for river tubing! The rapids are fun but not too fun, the eddies are big and the river is deep enough to float from Riff Raff on the Rio all the way to Yamaguchi Park!
For more information on river levels, check the San Juan River - Water Level Safety section at the bottom on this page.
The San Juan River flows right through the heart of downtown Pagosa Springs.  What better way to enjoy it on a hot summer day than some river tubing?  It's the perfect family activity!
Pick up a rental tube at Pagosa Mountain Sports' downtown location, make the short walk to the put-in at the end of the River Walk by Riff Raff on the Rio and enjoy a leisurely three-quarter mile long float down the San Juan River to the take-out by the Visitor's Center.  (The float takes approximately one hour and the return walk from the Visitor's Center takes around fifteen minutes.)
Don't mind a longer walk and want to add another hour of quiet floating time?  Pass right on by the crowds at the usual take out and float all the way to the last take out spot at the end of Yamaguchi Park just past the gazebo.
Our staff will happily point out the typical float route and river features!
All participants must sign a waiver or if under 18 years of age, have a parent or guardian sign for them.
Rental River Tubes are available only from Pagosa Mountain Sports' downtown location.
Tubing on the San Juan River
Pagosa Mountain Sports encourages you to be safe while on the river.
It is important everyone in your group understands and practices river safety!
San Juan River - Water Level Safety:
.  Typically drops to a safe level for tubing around early July - sometimes earlier, sometimes later
.  Link to Current San Juan River Level
.  Look for the 'Most Recent Instantaneous Value'.  Measurement in CFS (Cubic Feet per Second)
.  Recreational
.  50-90 CFS - Still Floatable
.  90-150 CFS - Good for most
.  Ideal
.  150-250 CFS
.  Might flip
.  Rowdy for children
.  Strenuous
.  250-400 CFS
.  Flip likely
.  Not for < 50 lbs
.  Dangerous
.  400+ CFS
.  Too high for tubing
Tubing Safety Tips:
.  PFD/Lifejacket
.  Children and inexperienced swimmers should always wear a PFD
.  PFDs are required by law for children under 13 and are always free with a tube rental
.  When the river is running above 250 CFS, they are free with a tube rental and highly recommend for adults
.  Non-swimmers and Children
.  Very young children should not participate
.  During high water levels, adults and children who cannot get to shore unassisted should not participate
.  Stay Hydrated
.  1 Liter of water per hour is recommended.  Avoid excessive alcohol as it can lead to dehydration
.  Use Sunblock
.  Apply before and during float
.  Protect Your Feet
.  Close-toed shoes are highly recommended to prevent cuts and bruises from the rocky river bottom and for walking to and from the river
.  Keep Tubes Untied
.  Tied tubes can easily flip in rapids
.  Hazard for others enjoying the river
.  Standing in the River
.  Do not stand up in the river unless it is less than calf high
.  Rocks can shift and feet become trapped