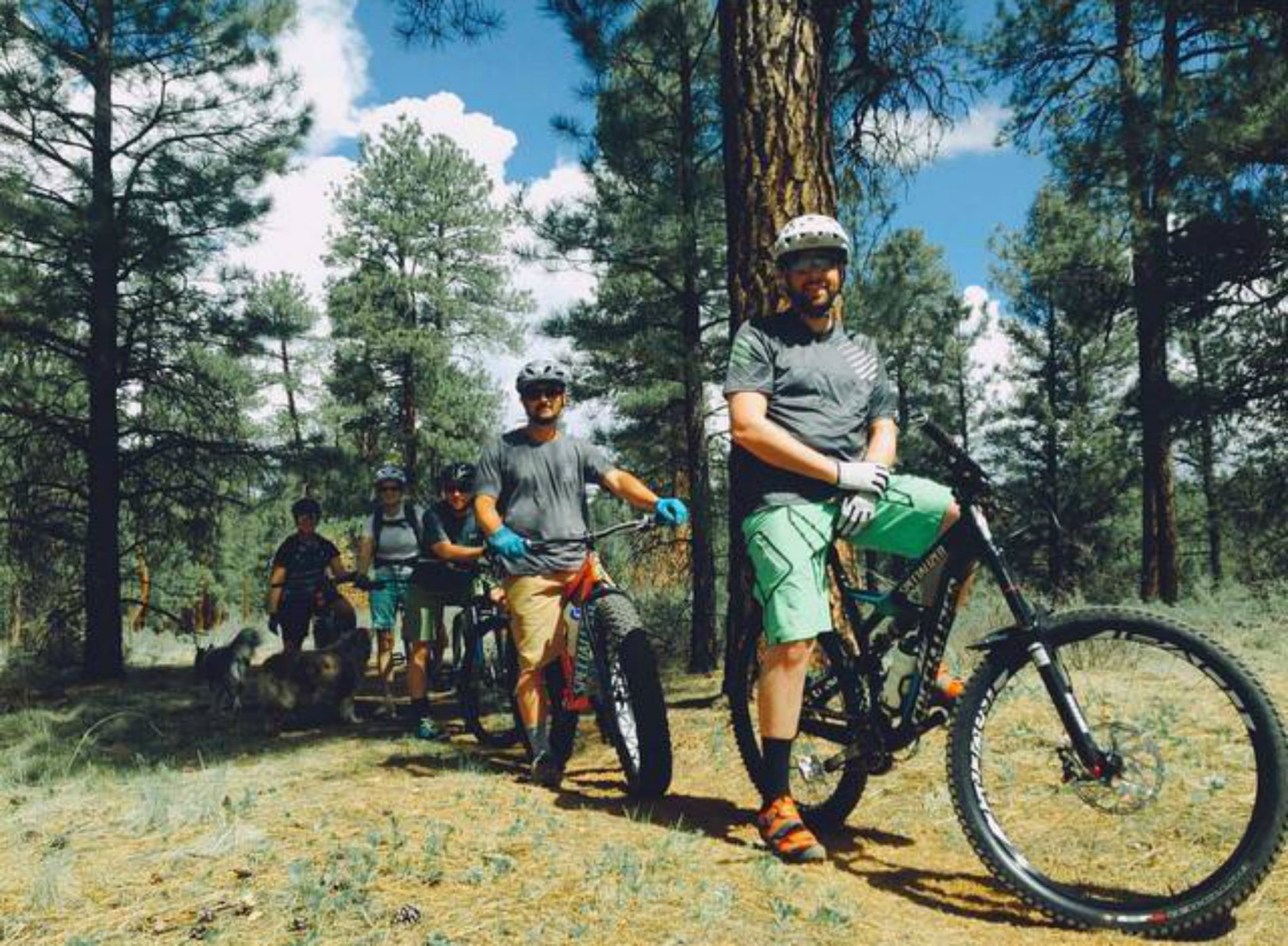 The Pagosa Springs area offers many amazing places to ride a bike.  There are miles of excellent single track on National Forest land,  hundreds of miles of gravel road, a river walk in town to cruise down, the well known road ride up Wolf Creek Pass as well as many others.  Whether it's a mellow beginner ride that you are looking for or a challenging day out on the trail, the experienced staff at Pagosa Mountain Sports will outfit you with a bike rental for a memorable day!
Every rental includes:
.  Helmet (required)
.  Lock
.  Water bottle cage
.  A seat bag that includes a flat repair kit
.  Maps of the area are available (some are free, some are for sale)
Please feel free to bring your own helmet, shoes, pedals, and saddle.
Our staff will happily suggest a route if you are not familiar with the area!
A valid driver's license and credit card are required to rent.
To expedite the rental checkout process, print and sign the Pagosa Mountain Sports Waiver.
Adult Bike Rental
Same Day $25    24-Hour $35
Hardtail Mountain Bike
The Pitch 650b Sport by Specialied features everything you need to get off the road and out on some trails.
Road Bike
The stiff, light, race-inspired Specialized Allez Elite offers great acceleration, handling and race-ready performance.
Townie Bike
The Roll by Specialized is the perfect bike for getting around town.  Pagosa Mountain Sports has the standard and low entry models to choose from.
Full Suspension Bike Rental
Same Day $55    24-Hour $70
27.5+" Full Suspension
What happens when you merge two worlds of innovative technology and pedigree? You get the future of trail bikes, aka, the Stumpjumper Comp Carbon 6Fattie.
29" Full Suspension
Hightower has the versatility to deal with whatever appears on the horizon. Running the proven 29" wheels, Hightower seamlessly adapts to the trails and style you ride.
Electric Pedal Assist Bike Rental
Same Day $75    24-Hour $90
We often forget the true spirit of why we ride—to enjoy ourselves!  The Specialized Turbo Levo has the perfect blend of trail performance and power to give you the ride of your life.  It helps you stop worrying about the elevation change and the hills and just have fun!
Pedal assist bikes are an awesome way to explore Pagosa Springs.  The effort you put in, the bike will match, up to 20 mph.  You can set the level on the go - 20%, 60%, 100% assist.
Fat Bike Rental
Same Day $45    24-Hour $65
26 X 4.6" Fat Bike
(Small, Medium Only)
If having fun for the sake of having fun sounds appealing to you, "going fat" will change the way you ride forever.
Kid's Bike Rental
Same Day $15    24-Hour $25
Bike Trailer Rental
Same Day $15    24-Hour $25
Sit-down Bike Trailer
The Burley Bee enables family bike adventures without sacrificing safety and durability. This lightweight trailer features comfortable seating for one or two children, tinted windows and plenty of space for cargo. Share your love for the outdoors with your little ones in the Burley Bee!
Tag-a-long Bike Trailer
The EVO 2-Up tag-a-long bike trailer is the perfect solution for kids who are too big for a sit-down trailer or child seat but not yet big enough to ride their own bike. With the tag-a-long, your child can ride without fear or concern. The trailer is a one-wheeled bike that easily attaches to the steel or alloy seat post on most adult-sized bicycles.
Pagosa Mountain Sports    Pagosa Springs Bike Rental Pagosa Springs Bike Trailer Rental Pagosa Springs Tag-along Bike Rental Pagosa Springs Road Bike Rental Pagosa Springs, Colorado